Thursday, April 2, 2020 - 5:30pm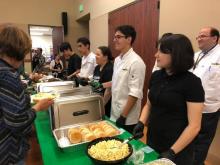 It is with great disappointment that we share that Burgers and Brew on April 2, 2020 has been CANCELLED due to recommendations by the Yolo County Health Department concerning the Novel Coronavirus (COVID-19).
For more information about the Coronavirus, please visit www.yolocounty.org/…/communicable-di…/novel-coronavirus-2019.
The ticket you have purchased is a tax-deductible donation and the funds are going to support the programs of the Woodland Joint Unified School District. We hope that you are willing to continue with this donation, but if not, please let Julie Mast know that you would like to be reimbursed.
If you have any questions or concerns, please call Julie at 530 666 1046 or email Julie.mast@wjusd.org.
We apologize for any inconvenience and appreciate the efforts of all those who had worked to support this event and cause.